KXSF Town Hall Recap
Web editor
from Pamela Busch
Community radio is different from commercial radio stations in one very big way; it is OF, ABOUT and FOR the community it serves. Based in San Francisco, KXSF strives to represent the big tent that is the Bay Area. With this goal in mind, we are doing town hall events throughout the year. We had our first of 2022 on April 25 at Fig & Thistle Wine Bar in Hayes Valley. In addition to being a forum where our listeners could let us know what they want from the station, it provided an opportunity for many of our DJs and other volunteers to come together in person for the first time in two years and discuss our direction.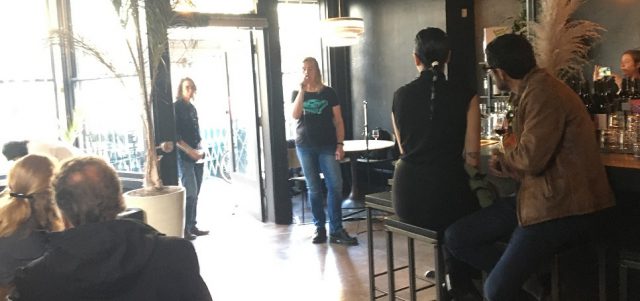 KXSF's history is linked with KUSF, which was nationally known for punk. While this is still a part of who we are, with popular shows such as Carolyn, at noon on Tuesdays, we've evolved to include a range of programming from different music genres and topical issues. However, as a community radio station, we must always meet the moment we're in, and as it seems as if a decade passed between 2020 and 2022, KXSF must be in lockstep not only with our current listeners but the greater population. So, here are some of the takeaways:
We need to add programming:
– Focused on our unique neighborhoods.
– In other languages: Given the number of people in the Bay Area with Mexican, Central American, and Asian heritage, it is imperative to have shows conducted in these tongues.
– Focused on women and LGBTQIA+ issues.
– Centered on hip-hop and rap, not only from a music but from a cultural standpoint.
Also, every show should work from a diversity, inclusion, equity, and justice lens. Whether we're playing punk, country, classical, rock, or music from other countries, we should and will make sure to have a broad base of musicians in our repertoire. The same is true for our interview-based shows.
Of course, we wish we could wave a magic wand and have these changes take effect right away; it will be a process. As the executive committee member overseeing DEIJ and community relations, it is my utmost priority to work on this right away.
So, I ask you, our listeners and supporters, to please provide feedback and any ideas you may have to help us achieve our objective to be the voice of San Francisco or if you are interested in joining our work as a volunteer. Feel free to email me at info@5thwaveradio.com. I am also happy to set up a call if that is better for you. And PLEASE, join us at the next town hall. We don't have a date yet but are planning on doing one this summer. We'd love to see you there!