Help The People Of Afghanistan
The good people of Afghanistan need your help.
Following the recent suicide bomber attacks by ISIS K in Kabul and the withdrawal of US troops, this country is now governed by the oppressive regime of the Taliban for the foreseeable future.

The civilians that have no choice but to remain there for now, really need our help more than ever before!
For example, this beautiful country with such a diverse culture under this veil of Taliban rule, will more than likely fall victim to an evil & misogynistic ideology that none of us would ever wish to witness in our own communities, nor lifetimes…
Some more info. on that ideology can be learned here.
There are many ways we can contribute to this rescue plan – please help & donate to one of the many good causes below…

Thank YOU!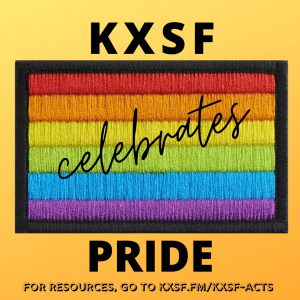 KXSF is joining in solidarity with the Bay area LGBTQ community to celebrate PRIDE all during the month of June – focusing on issues impacting different segments of the LGBTQ community.  On this page you will find further resources you can use to learn more about each.  
WEEK #1:
Transgender Law Center
"…the largest National trans-led organization advocating self-determination for all people."
According to the Human Rights Campaign, last year set a disturbing record for the number of violent incidents reported against trans and gender non-conforming people.  Learn more at www.hrc.org.  However, the violence against trans people extends beyond the streets and into our local, state and national legislative bodies.  The Oakland-based Transgender Law Center is working to change law, policy, and attitudes so that all people can live safely, and free from discrimination regardless of their gender identity or expression.  To find out more or learn what you can do to help – go to TransgenderLawCenter.org, or kxsf.fm/KXSF-ACTS.
WEEK #2:
LYRIC Center for LGBTQQ Youth 
"LYRIC waters the seeds of pride for LGBTQ generations to come"
 To build community and inspire positive social change, the San Francisco-based LYRIC Center for LGBTQQ Youth supports young leaders, families, and allies to build a world that honors, respects, and appreciates LGBTQQ youth and their contributions. To find out more, visit LYRIC.org. 
Bay Area LGBTQ Youth Centers
The Bay area is fortunate to have several LGBTQ Youth Centers providing safe spaces for queer youth and focusing on building a strong, confident LGBTQ youth community through education, creative art and events.  While these centers have been closed or otherwise impacted by the pandemic, find out more about their current services by checking their websites at:  
San Francisco:
www.sfcenter.org/program/youth-services/
Oakland:
Santa Clara County:
Marin County:
WEEK #3:
LGBTQ Seniors
Queer seniors, especially those who are isolated, vunerable or disabled, face unique challenges as they age.  There are numerous organizations in the Bay area helping LGTBQ seniors achieve and maintain a high quality of life through community building, education and housing advocacy. 
SageUSA.org :  National advocacy & services organization looking out for LGBT elders since 1978. Building welcoming communities, and ensuring a fulfilling future for all LGBT people. Established In 1978. Celebrating 40 years. Services: Advocacy for LGBT Elders, LGBT Housing Initiative.
Lavenderseniors.org: Based in the East Bay, Lavender Seniors programs foster a sense of belonging for all LGBTQ+ older adults particularly those who are isolated, vulnerable, disabled and at risk. They also participate in local, statewide, and national advocacy efforts for the betterment of the LGBTQ+ and mainstream older adult community.
OpenHouseSF.org: Openhouse helps connect SF Bay area LGBTQ+ seniors to housing, direct services and community programs. 
WEEKS #4 and #5:
Lesbian Rights
Since 1977, the San Francisco-based National Center for Lesbian Rights has been committed to advancing the civil and human rights of lesbian, gay, bisexual, and transgender people and their families through litigation, public policy advocacy, and education. Learn more at 
nclrights.org
LGBTQ Mental Health 
One of the most serious public health issues facing people these days is one that's rarely talked about.  Mental health.  San Francisco Suicide Prevention is a network of mental health advocates, prevention organizations, survivors, allies, and community members – all working together to provide emotional support, education, assistance, and intervention to people in crisis, their friends and their families.  The LGBTQI community historically suffers higher rates of suicide than the general population.  And for LGBTQQ youth, that number is 3 times higher than the national average.  If you are a member of the LGBTQI community and have struggled with depression, hopelessness, or thoughts of suicide, please know that you are not alone. If you or someone you know is in crisis, call (415) 781-0500 or visit 
kxsf.fm/KXSF-ACTS.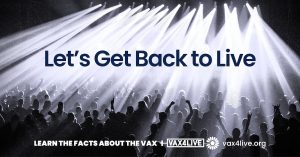 Miss live music at your fave club or venue? 
So do we! That's why KXSF is partnering with Hardly Strictly Bluegrass and numerous other national music organizations and venues in the VAX4LIVE campaign. With every hand wash, mask and vaccination effort, we are all one step closer to singing, dancing, screaming and shouting together. Take action so we can safely return to live events again. Learn the facts about the vax at Vax4Live.org.

KXSF is horrified and saddened by acts of violence, bigotry and hate targeting our AAPI brothers and sisters.  We condemn these despicable acts and stand with our Asian American and Pacific Islander communities in actively combatting the prejudices that fuel it.  Together, let's raise our voices and work to encourage change through collective action.
RESOURCES:
– Asian Pacific Fund: A Community Foundation 
Affiliate organizations of APF based in the San Francisco Bay Area, with resources (Santa Clara, Alameda County, Contra Costa County, San Francisco County, San Mateo County, and Bay Area & Beyond, and "Any"
– National Voice of the Asian Pacific American Legal Community.
Pro bono legal resources with toolkits, and intake forms included
– Stop AAPI Hate 
Reporting AAPI hate crimes, available in multiple languages
– Stand Against Hatred, part of Asian Americans Advancing Justice 
Another opportunity to report AAPI hate crimes, available in multiple languages
Other Sources:
Not In Our Town is a movement to stop hate, racism and bullying, and build safe, inclusive communities for all.  NIOT.org is the primary program of The Working Group, an Oakland, California-based nonprofit media production company.
Check out this guide to how to respond to everyday bigotry, published by the: Southern Poverty Law Center
Learn more about local organizations combating Anti-Asian discrimination:
Chinese for Affirmative Action
Getting Vaccinated for COVID-19
Visual Aides
– Infographic on the disbursement of vaccines based off of tier systems within the state:
https://covid19.ca.gov/vaccines
– UC San Francisco is featuring members of its community in a series of public service announcements to help build confidence in the safety and efficacy of COVID-19 vaccines:
https://www.youtube.com/playlist?list=PLVLbDUiGesPzeJNududfZY75BHvp2RtxP
National 
Local 
– San Francisco County link, which has a "get notified" link so they can automate messages when your tier is called:
https://sf.gov/covid-19-vaccine-san-francisco
Related Articles
Note: All articles shared below have been peer reviewed and are part of concurrent studies that monitor the vaccine's protective capabilities. 

Also, for clarity on the below articles:
– BNT162b2 = Pfizer
– mRNA-1273 = Moderna
"Interim Estimates of Vaccine Effectiveness of BNT162b2 and mRNA-1273 COVID-19 Vaccines in Preventing SARS-CoV-2 Infection Among Health Care Personnel, First Responders, and Other Essential and Frontline Workers — Eight U.S. Locations, December 2020-March 2021" 
"Vaccine efficacy probable against COVID-19 variants" 
"BNT162b2 mRNA Covid-19 Vaccine in a Nationwide Mass Vaccination Setting" 
"Efficacy and Safety of the mRNA-1273 SARS-CoV-2 Vaccine"
"Safety and Efficacy of the BNT162b2 mRNA Covid-19 Vaccine" 
KXSF Safe Streets Campaign
On New Years Eve, KXSF veteran volunteer and DJ Elizabeth Platt was one of two people killed in a tragic hit and run South of Market.  Elizabeth and 27-year old Hanako Abe were in the crosswalk at 2nd and Mission when the incident occured.  
As heartbreaking as this is, unfortunately it is not uncommon in San Francisco.  On average, 3 people are stuck by vehicles every day in our city while walking.  In honor of Elizabeth and others like her, KXSF is teaming up with Walk San Francisco to promote safer streets in our community.
Walk San Francisco is a non-profit organization formed in 1998 by a group of people committed to making San Francisco the most pedestrian-friendly city in the United States. To achieve this, Walk San Francisco has a three-tiered plan:
Campaigns to fix the city's most dangerous streets

Safe Routes for All

 focusing on safer streets for children, seniors, people with disabilities, and transit riders

Please join KXSF in supporting the work of Walk San Francisco.  Find out how you can help promote safer streets in our city by going to WalkSF.org
Rest in power, Elizabeth. 
Food Aid
At KXSF we believe that food is not only a need but a human right. Before COVID-19 hit, over one in four people in the Bay Area were hungry. Now folks are experiencing hunger at even more alarming rates. The good news is there are so many ways to help. Donating, volunteering, organizing.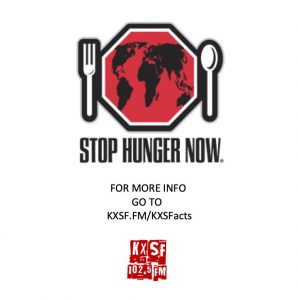 Did you know that more than 2,000 Bay Area small businesses have closed permanently since March? Now more than ever, small businesses need our support. So, as we move into the holiday season and about our lives, remember to shop local.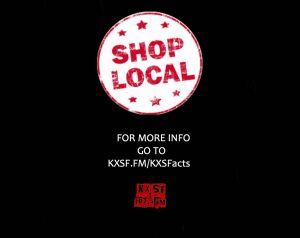 Other Data & Hyperlinks to Sources
1 in 4 people in San Francisco are food insecure, many of them seniors and children

(FoodShift) 
The cost of living in the Bay area makes it especially difficult for working families to afford basic necessities such as housing, utilities and transportation, let alone put a healthy meal on the table…Alameda County Food Bank serves 1 in 5 of their neighbors in Alameda county. Two-thirds are children and seniors.

(Alameda County Food Bank).
In May of 2019 almost 800,000 Bay Area residents were experiencing food insecurity

(East Bay Times) 
Food insecurity contributes to poor health and health disparities through multiple pathways: stress, trauma, poor diet quality, and malnutrition. Food insecurity increases risk of multiple chronic conditions, including diabetes, heart disease, and hypertension, and exacerbates existing physical and mental health conditions.  It impairs child development and limits academic achievement.  Food insecurity and hunger impacts our community in many direct and indirect ways, and the social and economic costs are passed on in many ways, including higher health care costs

(SF Dept of Public Health).