Stanford Football Digital Coverage – November 14th, 2020
Sam Pasco
Stanford hosts Colorado for its 2020 Home Opener! Stanford has won 12 consecutive home openers dating back to the 2008 season. Last year, Stanford defeated Northwestern 17-7 in the home opener.
🌲 🏈 Stanford Football Home Opener 2020! pic.twitter.com/GwlK7bry2v

— KXSF Sports (@KXSFsports) November 14, 2020
Cardboard McCaffrey
Nearly 300 cardboard cutouts are at Stanford Stadium, including: John Elway, Andrew Luck, Christian McCaffrey, Jim Plunkett, Richard Sherman, Bill Walsh, Tiger Woods, Katie Ledecky, Mike Mussina, Sergey Brin, Herbert Hoover, Sandra Day O'Connor, Larry Page & Reese Witherspoon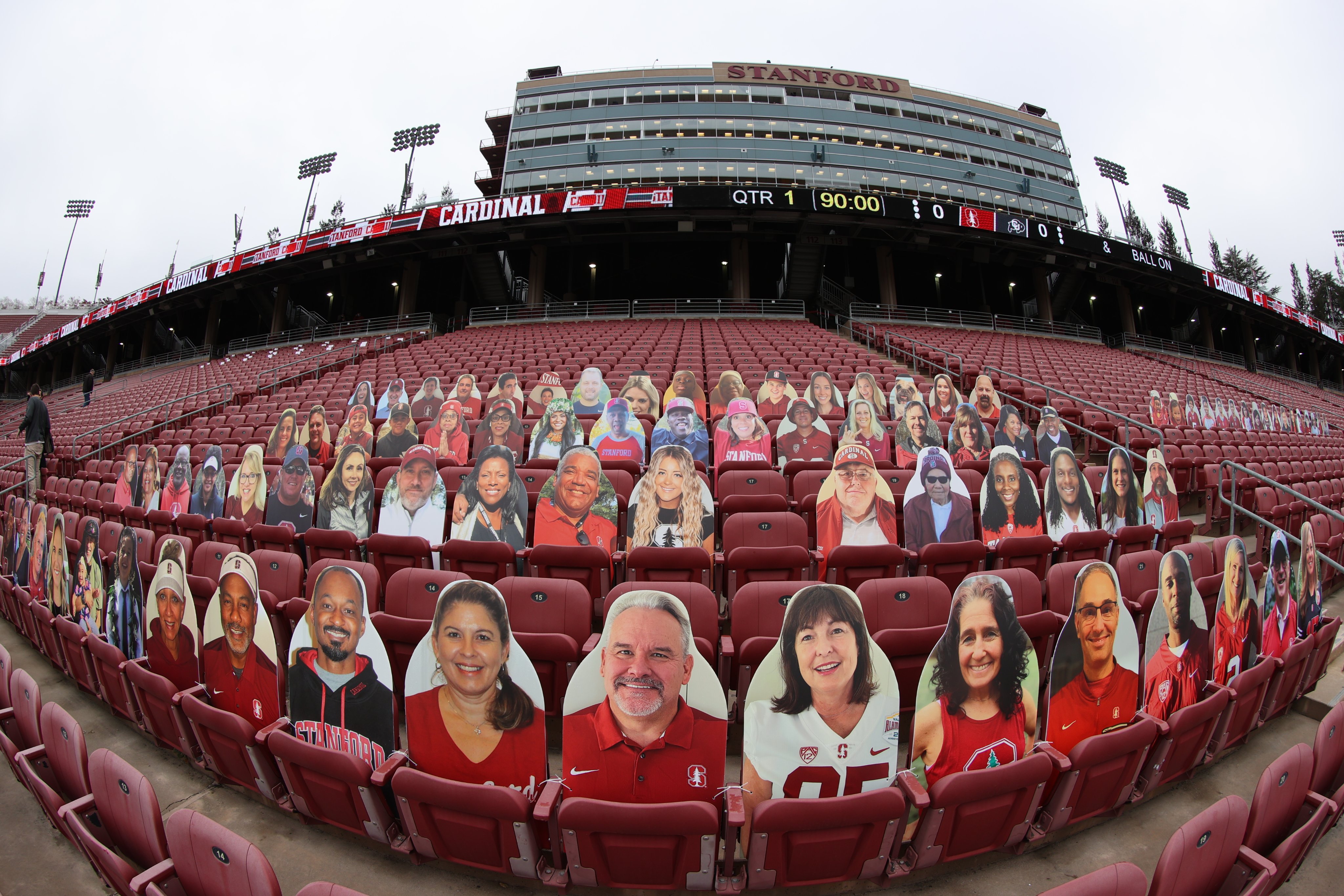 Press Dining
Quick Notes – By The Numbers
2 – Sophomore ILB Levani Damuni caused two turnovers vs Oregon last week (his first career interception & a fumble recovery).
100 – In his first career start, RB Austin Jones had his first career 100-yard rushing game and two-TD game Saturday.
191 – Sophomore RB Nathaniel Peat had 191 all-purpose yards last week (98 kick return, 93 rushing).
12 – Stanford and Colorado meet for the 12th time in series history today. The series began in 1904 with Stanford winning 33-0, but the matchups did not resume until 1977.
28 – Stanford's 2020 roster features 28 true freshmen and 45 more who have at least three seasons of eligibility remaining entering the season.
6 – Through the first six weeks of this seven-game season, every Pac-12 football game will be televised nationally by a combination of ABC, ESPN, ESPN2, ESPNU, FOX and FS1
UNITE – Equity, Justice, Love
Stanford Athletics fully supports its student-athletes, coaches, and staff continung to use their voices and platforms to create change and is committed to doing its part to make the world a better place. In the face of injustice, inequality, and hatred, we must unite in the fight for equity, justice and love.
Representation in the campaign will vary by sports, with the football, student-athletes, and coaches choosing to display the UNITE emblem on their helmets and on the sidelines, in tandem with the pregame warmup shirts supporting the fight for anti-black racism.
✊UNITE✊

Equity, Justice, Love pic.twitter.com/PE7pZ4liQG

— KXSF Sports (@KXSFsports) November 14, 2020
Trees In The House!
Stanford Athletics has teamed up with Lowe's to create a home-forest advantage by staging more than 450 trees in Stanford Stadium. Lowe's is donating drought-resistant, locally sourced, native trees to cheer on the Cardinal all season long. Stanford Athletics will water and care for the trees throughout the season, and afterwards, all 450+ trees will be replanted in Bay Area communities. Local city works departments and other nonprofits will replant the trees to grow urban forest canopy, address climate change, and create healthier communities that are greener and more resilient. For more information, click here.