Review: Sarah Shooh & The Disarmers at Bottom Of The Hill, Wednesday, March 30, 2022
Web editor
Sarah Shooh & The Disarmers, Secret Emchy Society
Bottom Of The Hill, San Francisco, Wednesday, March 30, 2022
By Scott Tolar
I had the pleasure of going to the Bottom Of The Hill on Wednesday March 30th to hear Sarah Shook & The Disarmers. I've been a fan of theirs since the Sidelong record came out in 2017, and really enjoyed the Years record that came out the following year. Not yet truly connecting to the newest release, Nightroamer, I headed out to the backside of Potrero Hill for a night on the town.
First of all, I'm so happy that the club even exists, as the neighborhood is a very new place, with high-rise residences and upscale businesses replacing the warehouses and funky joints that used to dominate. The old Anchor Brewery is still there, though not their main place any more. Aside from that, not much is the same in the hood, aside from a couple of the classic SF rock bars, Thee Parkside and the Bottom of The Hill. It's really great they are both still there doing what they do. So from the start, I was is a very appreciative state of mind.
There was a third band I did not hear, but as I entered, Secret Emchy Society was gracing the stage. Great country honky-tonk, with amazing, bluesy vocals. I believe they are local, and the bar was having a great time with them, so things were primed for fun as Sarah and their band hit the stage. They did not come out with the new material right away, opening with fan favorites from the first two records before the new material.
I was hooked.
They were great, with Sarah's vocals and guitar playing at the center, a bass player alternating between electric and stand-up, and an amazing pedal steel player, who for about half the songs had his PS guitar sounding just like a great rock organ. It really blew me away. I had to look closely, questioning if there was a keyboard somewhere on stage. Must have just been a pedal … It was definitely the pedal steel guitar, and I loved it.
The band played new material, but hit every old favorite, including the "Dwight Yoakham" song which I love, but figure they hate hearing requests for. The new touring lead guitar player and the drummer were both awesome as well.
All in all, a great night out in San Francisco! Great music at one the the greatest venues this town has ever had.
Felt like old times.
---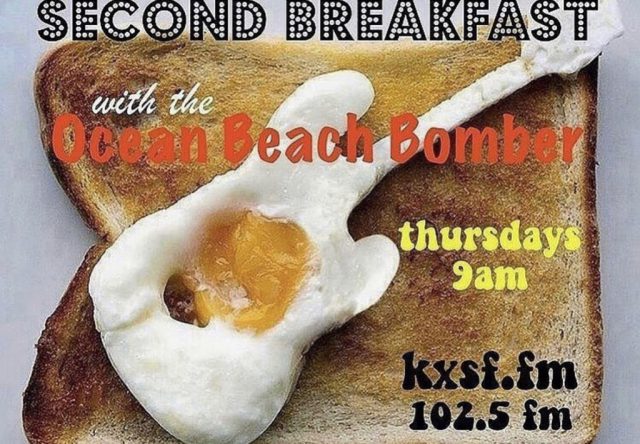 Scott Tolar is the Ocean Beach Bomber, and his show Second Breakfast airs Thursdays, 9 a.m–Noon