Review: Deerhoof's Telepathic Interplay Filled the Room
Web editor
Deerhoof, Mayya
Great American Music Hall, October 21, 2022
by Gage Kenady
It's good to see Deerhoof trod — nay, pummel — our concert stages once again. While very productive during the pandemic, releasing two studio albums of original material and one of equally original cover-mashups, this work was conducted virtually since its members live in different cities. The excitement and relief they felt when congregating together in a small room for a live performance at the end of 2021 was palpable when they released their Devil Kids album last December. Palpable? Hell, it threw you around the room and made you jump up and down with its gleeful ferocity.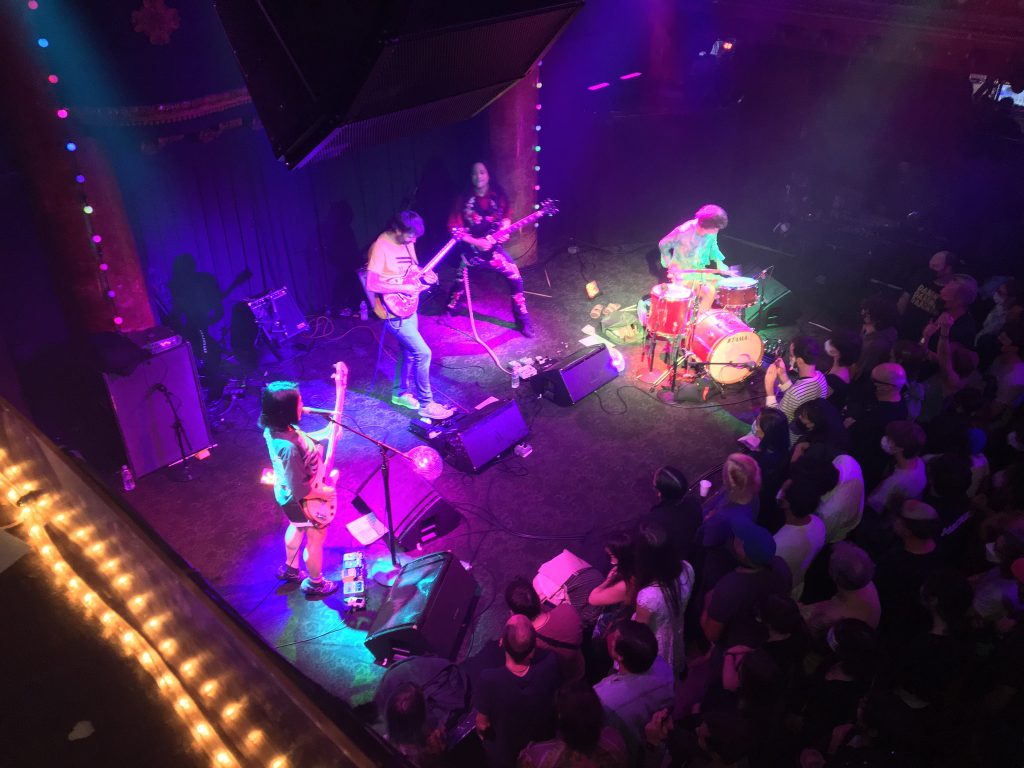 But an exciting performance on an exciting album is only just that: an album. Longtime Deerhoof fans know the thrill of watching their heroes do their thing directly in front of them with their telepathic interplay filling the room with an edge-of-your-seat electricity. How do they pull it off? Often, in the case of their drummer and founder, Greg Saunier, it's a question of "will he pull it off?", as he appears to be on the brink of careening out of control during performance. But he never once does.
Deerhoof's October 21 performance at Great American Music Hall was a bit different from the many performances this correspondent has witnessed in that it was about 90% hard rock. In any Deerhoof show you can expect to be rocked hard, but usually leavened with arty melodic sweetness — if a discordant melodic sweetness. Musical phrases and elements bounce around like a rubbery jigsaw puzzle, interlocking but breaking away for a mood-changing, time-changing interlude. Patented idiosyncratic Deerhoof.
But the Great American performance was a heads-down -well, one head down and one head up: guitarist Ed Rodriguez is a long hair-swinging rockstar, while guitarist John Dieterich is an expressionless Invisible Man wrenching wicked licks with a stone-faced countenance (that is until his crazy-sounding guitar apparently made him go crazy near the end of the concert; a truly disturbing sight)- display of intense balls-to-the-wall (don't you love that expression?) rock throughout. A couple of songs even verged on Metal. The only relief from this night's onslaught was the encore number.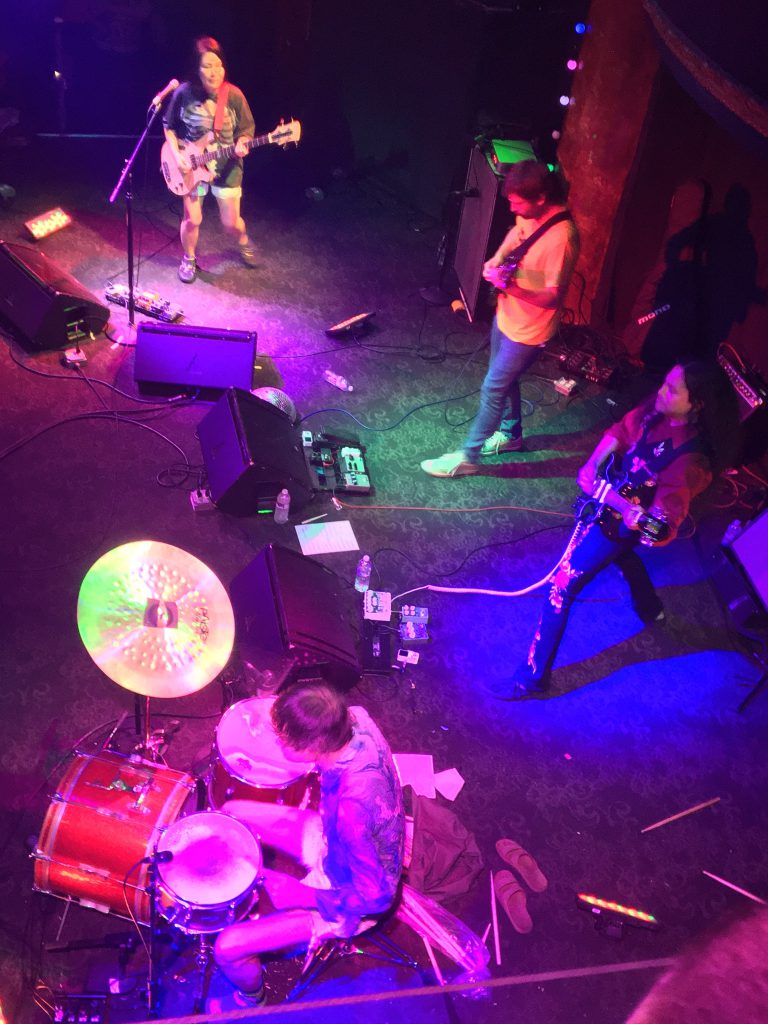 Bassist/singer Satomi Matsuzaki is the identifiable heart of the Deerhoof sound, her vocals having become more supple and expressive through the years. This is the result of sheer experience and hard graft. Stick to your chosen road, kids, you'll get better.
As alluded to above, Saunier is an absolute monster on the drums, coaxing power and dexterity from a small, no-frills drum kit. A locomotive, he is.
One highlight of Deerhoof concerts is Saunier's stage announcements. Mr. Saunier is very tall, but insists on making stage announcements bent in half from Satomi's (not tall) microphone. On this evening, he noted multiple problems with Ed's guitar and gear (this was not evident to me or my companions), but concluded that while these difficulties might result in the break-up of the band, it was in fact one of the best (did he say the best?) Deerhoof performances ever. Another example of the topsy-turvy world of this local / national / international treasure. Their latest release is the single "My Lovely Cat!".
Opener Mayya, beloved by local audiences for many years now, also blew me away. With a full band including electric violin, keyboards and a terrific drummer, Mayya impressed with interesting compositions, folksy warmth and a bit of spacy spice. And, of course, her great vocals. Her new album Infinite Possible Futures was released in September.