Streaming Live Online 24x7 + Across SF on 102.5FM ~ 10am-4pm / 10pm-4am (Pacific)
KXSF 102.5 FM
On the air at 102.5 FM, 10 AM – 4 PM and 10 PM – 4 AM daily, and live streaming 24/7 right here at KXSF.fm.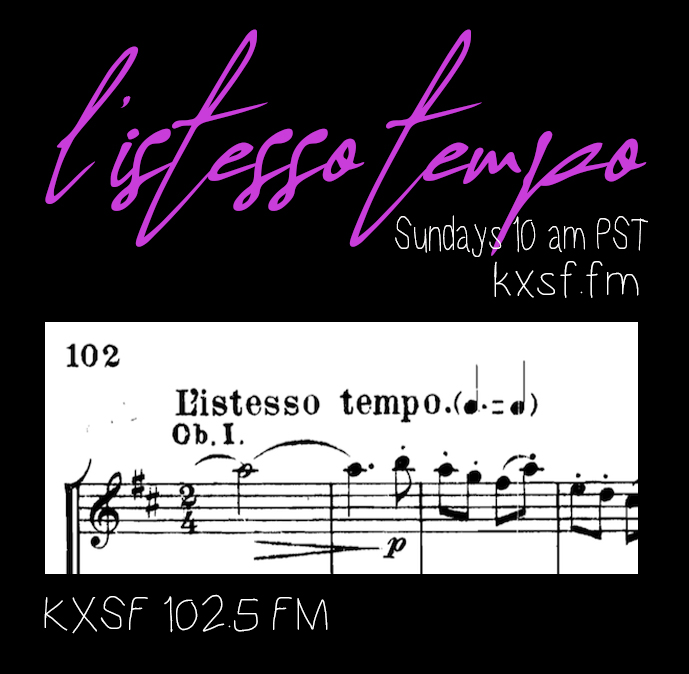 L'Istesso Tempo airs Sundays from 10:00 am to Noon. Classical music … and
Read More »
Bar Italia – Tracey Denim (Matador)
Melenas – Bang (single) (Trouble In Mind)
BC Camplight – The Last Rotation Of Earth (Bella Union)
Bad Affair – We Are Doomed (No Spirit)
Cable Ties – Thoughts Back (single) (Merge)
The Hannah Barberas – Fantastic Tales Of The Sea (Spinout Nuggets / Doo Lang)
MD Pallavi & Andi Otto – Songs For Broken Ships (Multi Culti / Shika Shika / Pingipiung)
Pozi – Smiling Pools (PRAH Recordings)
Blur – The Narcissist (single) (Parlophone / Warner)
Prism Bitch – Woman (single) (self-released)
Fake Names – Expendables (Epitaph)
Lukas Nelson And Promise Of The Real – Alcohallelujah (single) (6 Ace)
Golden Mean – Oumuamua (Jazz re:freshed)
Alabaster Deplume – Salty Road Dogs Victory Anthem (single) (International Anthem)
BBQT – Dangerous Dame (single) (Surfin' Ki)
Various Artists – Dot Dash MixTape Volume 1 (Dot Dash Sounds)
Rob I. Miller – Companion Piece (Vacant Stare)
Dross – Nightmare World (No Front Teeth)
Nakibembe Embaire Group – Nakibembe Embaire Group (Nyege Nyege Tapes)
Barbara – Pretty Straight Guy (single) (self-released)
Liquids – Songs (self-released)
Good News – Kishki (single) (Bingo)
Los Huaycos – Huaycal Descuageringeition (Cintas Merfi)
Chiens de Faïence – Faux Mouvement (Safe In The Rain)
Station 17 – Oui Bitte (Bureau B)
Alex Pester – Better Days (Violette)
Chinese Junk – Electric Chair (single) (Big Neck)
Civic – Chase The Dragon (single) (ATO)
Destroy All Gondolas – Death by Hamburger (single) (Slovenly)
Exwhite – This Is Future (Turbo Discos)
KXSF Live (Sundays, 3 – 4 pm) is our weekly live music show featuring interviews and on-air performances.
Interested in appearing on KXSF Live?  Contact us: kxsflive@kxsf.com