Mawkish Twaddle
Editor
Mawkish Twaddle – Saturdays from 10pm to Midnight.

This show is often a jangly pack of freeform bubblegum and occasionally a jarring squall of sound.  Bob N. selects and spins the choicest tracks from brand new releases the world over, spiking them with older selections that are both exciting and not overplayed.  Few subgenres are off limits but indie pop, post-punk, sunshine pop, indie/college rock, power pop, art rock, psych pop, and chamber pop dominate the two-hour show.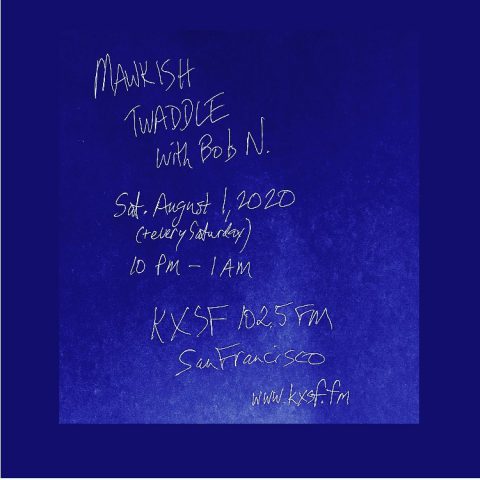 This week's Twaddle is one of the best yet, with new sounds from Exploding Flowers, Awful Sirs, The Vapour Trails, The Toms, Little Shrine, Brick Head, Charley Crockett, Librarians With Hickeys, Brian Mello, Hen Ogledd, Brontosaurus, Even As We Speak, mylittlebrother, Trummors, Cool Sounds, Kelley Stoltz, Thee Evil Twin, Jimothy Lacoste, The Lemon Twigs, Juniper, The Icebergs, Cloud Nothings, Snowgoose, Helvetia, Alex Izenberg, The Explorers Club, Mike Polizze, Sleeper And Snake, Home Blitz, The Cleaners From Venus, Stuart Moxham & Louis Philippe, Neurotic Fiction, Aksak Maboul, Tiña, The Notwist, Cut Worms, and Fontaines D.C.

From the past: Nick Nicely, Yanti Bersaudara, Featherbed Featuring Barry Manilow, The Aluminum Group, Jim Noir, Roberto Cacciapaglia & Ann Steel, Tommy Roe, and Eric Burdon & The Animals.