Who is Flappy, the Mysterious DJ (Fridays, 4–6 p.m.)?
Web editor
Who is the Mysterious DJ Whose Show Airs Fridays 4–6 p.m.?
by Gage Kenady
A considerable amount of intrigue has been generated by one of KXSF's newer DJs, the one known simply as Flappy, host of Flappy's Den (Fridays, 4–6 p.m.). Who is this mystery man with no social media presence (or even a cell phone) who has captured the hearts and imaginations of KXSF listeners at such a rapid rate? As the one who brought Flappy into the fold, I will attempt to answer some of the many questions that have been pouring into KXSF.
Before I begin, I would just like to admit that Flappy's meteoric rise in the KXSF pantheon has had me somewhat disgruntled.  I slave for hours each week preparing shows to edify and entertain listeners in a presentation that I like to think is well-rounded, stylistically cohesive and (somewhat) professional.  Flappy just wings it, playing whatever the hell he feels like, with no discernable preparation.
I brought him aboard, trained him, and have generally accommodated his eccentric needs and now his popularity seems to be eclipsing mine!  With that off my chest, let me answer questions and tell what I know.
Where did Flappy come from? How did he find his way to KXSF?
For some time, I would see Flappy on a park bench in Dolores Park waving to passers-by.  Sort of a self-appointed greeter of Dolores Park.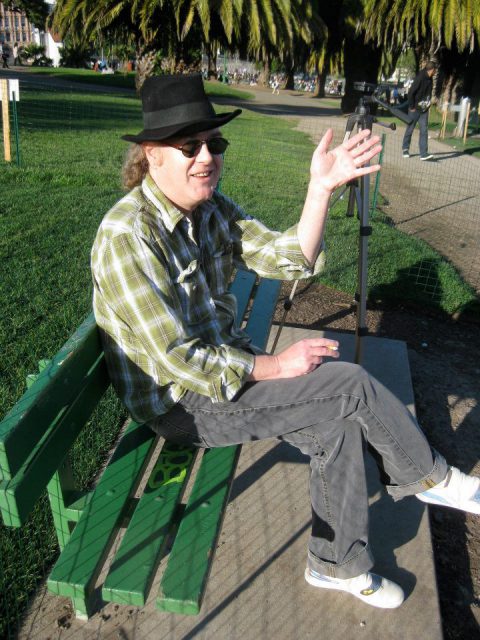 Although a bit eccentric-looking, he clearly loved people and dogs.  One day, about a year ago, I was passing by wearing my vintage SFCR t-shirt.  Flappy saw the t-shirt and exclaimed "I remember that station!"  We got to talking and I was quickly impressed by his knowledge of music and his love of radio.  When a vacancy appeared in the spot following my own show (Off The Hook, Fridays, 1–4 p.m., by the way), I asked Flappy if he would be interested in filling in temporarily.  He jumped at the chance.
I can't quite make out Flappy's accent.  Where is Flappy originally from?
Many have an impression of Flappy as a grizzled hobo from the bayou with a pet gator and a still out the back.  Although his geographical origins have been hard to pin down  -Flappy's been a bit cagey in this regard- this does not appear to be the case.  He has mentioned his "early days" in McCook, Nebraska, spoken of a sister in New Mexico, and his "music days" in Los Angeles, whatever that may mean.  He does not wear suspenders, he wears button-down dress shirts, drives a 1967 Jaguar sedan and his facial hair is usually well-maintained.
Why does Flappy speak of being in his den, while also announcing he is at Light Rail Studios?
Flappy's "den" (more like a medieval apothecary, if you ask me) is ensconced within Light Rail Studios.  Its weekly installation is one of Flappy's eccentric needs that I mentioned above.  It puts him at ease and is no trouble since it really is just a poster on the wall.
How old is Flappy?
I have wondered the same thing, but have not thought appropriate to ask.  He clearly has a youthful joie de vivre and a knowledge of current music, while maintaining an old-world, uh, charm, I guess you'd call it. From my observations, I'd put him somewhere between his mid-forties and mid-seventies.
One final thing: a number of listeners have suggested that Flappy and I are the same person.  A comparison of the photos below will show that there is absolutely no resemblance:
Whoever the loveable Flappy really is, we're glad to have him with us at KXSF, if only temporarily.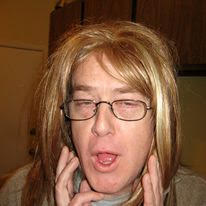 Gage Kenady hosts Off The Hook Fridays, 1–4 p.m.