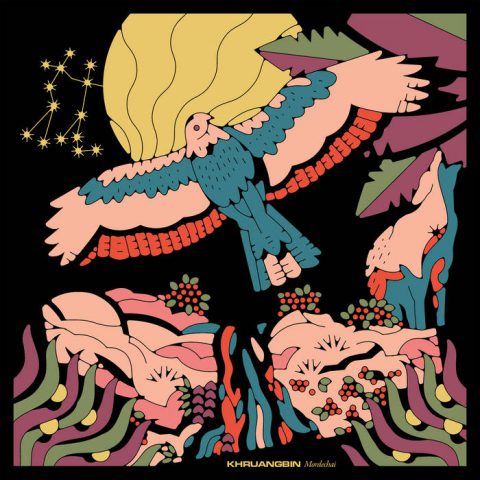 KXSF Album of the Month August 2020.
Khruangbin, "Mordechai" (Dead Oceans)
By Corey DuBrowa.
Post-psychedelia? Dream funk? On the Houston trio's third album, genre labels are for suckers. Just kick back and enjoy their polyglot pop for what it is: classic summer tunes perfectly tuned for the season of our discontent.
The Thai word "khruangbin" can be directly translated in English as "engine fly" but is better understood in the context of "airplane," which seems an apt handle for a band determined to fly above expectations and easy-bake descriptions of their sound.  The Houston instrumental trio of bassist Laura Lee, guitarist Mark Speer and drummer Donald Ray "DJ" Johnson Jr. came up through the same St. John's United Methodist Church gospel ensemble as fellow Houstonians Beyonce and Solange Knowles, and through a variety of means (Speer's and Lee's matching stage wigs; music built more on instrumental foundations than vocals; a barn in a 300-person town outside Houston that has served as the trio's recording HQ since its inception in 2014) have maintained an air of mystery about them.
And then there are all the questions about how best to describe their music, which have ranged from critics trying to classify them as the new jazz fusion to a kind of psychedelicized funk that mashes up the best of Sly & the Family Stone with, er, the Dead?  It's a bit of a recombinant riddle, really. 
Just chill, already — god knows the band certainly are. "Mordechai" features more vocals than the band's previous two outings combined — the sunny poolside disco sounds of "Time (You and I)," the slinky "So We Won't Forget" and the Latinized funk of "Pelota" are supplemented by catchy, confident vocals that show the group stretching out their songwriting and growing more comfortable in their open-toed shoes.  But Khruangbin's distinctive, laid-back signature sound — modal guitars traveling Eastern scales and flourishing more chorus and reverb than most players can capably carry — is what moves the band forward on a wave of momentum, whether it's the decidedly 70s vibe of the album's opening track "First Class" (which bears more than a bit in common with the Roy Ayres fusion classic "Everybody Loves the Sunshine") or its closing manifesto "Shida," which places Speer's guitars where most bands would think to put a singer, in the "prime melody" seat. It's mesmerizing and a decidedly modern way to weave global influences into Western pop without taking the pedantic David Byrne approach to "discovering" (read: appropriating) world pop sounds and introducing them to audiences accustomed to U.S. pop radio tastes.
There is genuine growth happening here, and more to the point, buzz — touring mate Leon Bridges put them to work on his ubiquitous single "Texas Sun" (Speer's guitar is immediately recognizable) and it's only a matter of time before Khruangbin — as hard as it is to pronounce, or fully understand — becomes a household name once the pandemic is through having its way with us. This is a delightful discovery and an album that pulls off the nifty trick of establishing a  relaxing background while challenging your ears enough to move stealthily into the foreground.  If you loved their previous signature tune, "White Gloves" — and millions did, according to most streaming services — there is so much more depth and skill to go around on "Mordechai."  Take a moment and put your toes in first… the water's just fine.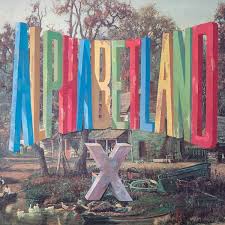 KXSF 102.5FM JULY 2020 ALBUM OF THE MONTH
X
Alphabetland
through Fat Possum Records
Nominated by DJ Stevil
KXSF 102.5FM JUNE 2020 ALBUM OF THE MONTH
KOFY BROWN
Child of Providence
through Simba Music
Nominated by MJ Call
KXSF 102.5FM MAY 2020 ALBUM OF THE MONTH
THE CHATS
High Risk Behavior
through Bargain Bin Records
Nominated by Guillermo Goyri
KXSF 102.5FM APRIL 2020 ALBUM OF THE MONTH
MIDTOWN SOCIAL
Fantastic Colors
through Midtown Studios
Nominated by DJ Webbles
KXSF 102.5FM MARCH 2020 ALBUM OF THE MONTH
HABIBI
Anywhere But Here
through muddguts
Nominated by Guillermo Goyri
KXSF 102.5FM FEBRUARY 2020 ALBUM OF THE MONTH
AUTOMATIC
Signal
through Stone Throw Records
Nominated by Guillermo Goyri
KXSF 102.5FM JANUARY 2020 ALBUM OF THE MONTH
CHROMATICS
Closer
through Italians Do It Better
Nominated by Guillermo Goyri