Review: Habibi at The Chapel, March 7, 2022
Web editor
Habibi
The Chapel, San Francisco, March 7, 2022
DJ Evil Sandy
If you've ever listened to The Verge on Friday nights, you know that we are huge fans of Habibi. The band is rooted in Brooklyn and the two founding members, Lenny Lynch and Rahill Jamalifard, are both from Detroit, but didn't know each other there. When they met in NYC, they quickly realized they had the same influences and decided to play some music together. This was back in 2011. They put out their first EP in 2012, called Habibi, which means "my love" in Arabic and is a nod to vocalist Rahill's Iranian origin. Fast forward to early 2020, pre-pandemic, and they have released the quintessential "play this record when you're (fill in the blank)" called Anywhere but Here. They blend psychedelic, grunge and 60's girl harmonies seamlessly, and yet it's entirely their own. 
Scissorbird and I got to see them at Bottom of the Hill when they first started touring that record back in March 2020, right before everything closed down. What a crappy break! They had to halt touring for close to two years. During that time, they signed with KIll Rock Stars and put out a couple of singles.
That show back in 2020 showcased great musicianship across all members of the band and was hugely inspiring. Fast forward to their show at The Chapel this past March and… WOW!  First off, they have two new members: Ana Becker on rhythm guitar/backing vox and Yukari on bass. They were so tight, it doesn't seem possible that this lineup has been playing only a mere year-and-a-half.
We heard songs from Anywhere but Here along with their new singles Somewhere They Can't Find Us and Call Our Own. These songs have the band exploring new sounds while maintaining their unique sound and it's not like anything we've heard before. The confidence they exuded was palpable and seeing them on this bigger stage, rightfully owning it and standing in their power, was a sight to behold. Don't sleep on this band, not that they're going anywhere, but why wait any longer to hear them? Ya dig?
Sandy Lucas is DJ Evil Sandy and cohosts The Verge on Fridays, 6–9 p.m.
---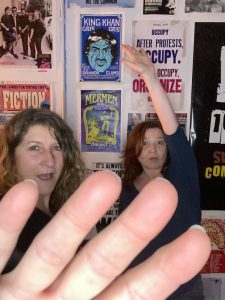 The Verge upcoming April show recommendations 
by DJs Evil Sandy and Scissorbird
Bottom of the Hill
4/5/22 – Killer Whale/Nordista Freeze/The Black Tones

4/26/22 – Jon Spencer & the Hit makers/Quasi
Bimbo's
4/28/22 – King Gizzard & The Lizard Wizard
The Fillmore
4/5/22 – Valerie June

4/7/22 – Shannon and the Clams

4/20 & 4/21 – Brian Jonestown Massacre
The Independent