An Outside Lands Story by Maryzelle
Web editor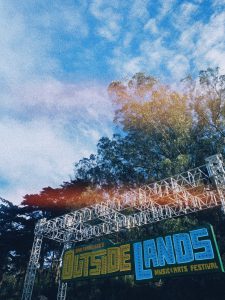 My first feeling when walking into The, "Outside lands Music & Arts festival," was the gratitude of coming together again with my community. It was so beautiful seeing and hearing people who were complete strangers to each other compliment one another's outfits, ask each other questions, make conversation, exchange jokes, and just generally talk about anything and everything under the sun. 
A whole entire year of being afraid to be around each other, a whole year of isolation, and a year of no live music, yet here we all are, together again to finally have that freedom and joy of live music together, back. 
Everyone I met was so friendly, happy, and most of all, grateful to finally be back together with the bay area community in the best way possible, in the beautiful nature and magic of  Golden Gate park. Not only were the people and nature great, but we were blessed once again to have the best music festival lineup of the year, and I say that with complete total confidence. How can anyone beat this line up? With musical acts including, "Tyler, the creator," "The strokes," "vampire weekend," "Lizzo," "Tame Impala," "Khruangbin," "Angel Olsen," "Dr.Dog," and of course, many more musical rippers. Outside Lands always knows how to include everything for everyone. I will say, nothing ever beats this festival. Just look at past lineups! This one will always be my top favorite festival, and of course they had to blow it out the water with the live music comeback ever since the covid set back. 
First set I saw was Khruangbin, of course…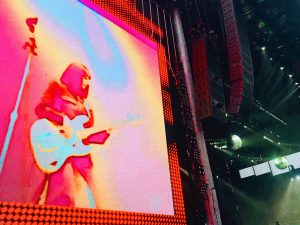 I don't even know where to begin with their set. Everything from the grainy 70's multicolored visuals, to the 10 minute set of covers from songs by Lonnie smith to MF Doom , I was highly impressed with not only their virtuoso energy, but of course their song selection in covers. From 70's R&B to 90's Reggae, they chose the biggest and baddest songs that got everyone vibing and singing along. 
Of course , when I see any woman killing it with compassion on an instrument, I get this high that's like no other. As a woman musician, when I see another woman up on stage, I feel like a little girl again and think to myself, "oh ya we can do this, we can do anything we set our minds to." I even told a man next to me that each time I see something like that, it's a spiritual experience for me. Along with feeling like I was taken back into the 70's and on another one of my spiritual experiences of seeing women musicians, this band had a perfect set once again.
Earthgang…
After their set, I watched Earthgang, who took me back to when I saw Outkast a couple years ago. The energy these two men had was so similar to outkast's energy when they performed. it would seem like someone like Outkast is incomparable, but you had to really be there to get what I'm talking about. The energy and emotions that I felt inside my body was so alike to that Outkast concert. They had this high and upbeatness to them, that was unapologetic and poetic. I loved every second of it, and truth be told- I never heard their music until that night, and now I am a huge fan.
Tyler, the creator…
I was most excited out of the whole lineup to see, "Tyler, the creator", as someone who's been going through a lot of heartbreak and usually has a good amount of rage built up, I've found myself relating the most to his music and artistic expression this past year. He of course blew my mind with his choice in songs to perform and how to perform it. He re-performed an iconic performance of, "See You Again" that was based off one of his first performances when the song first came out. With a mixed version that has a boot camp drill song influence. This brought me to tears, since it is one of my favorite types of performances of his. He then played a wide range of songs that go back to his Odd Future days to the now trending tik tok song with pharrell williams, "IFHY." This is why I felt like such a lucky bean, he played at least 1 or 2 songs from what seems like every album he's ever done. I felt as if I was seeing all parts of him through different timelines. The whole time I found myself in awe about this beautiful masterpiece existing, a true blessing it is to be in a time where this creator can create his magic right in front of my eyes.
Lizzo…
The next notable performance throughout the weekend was, of course,  Lizzo. Let me be honest here, At first, I wasn't going to take the time to see her performance. I'm not much of a fan of what gets blasted on the radio, but on the night of, I of course caught myself interested in catching a tune or two before I left. The most surprising and greatest thing about her performance was how each and every song was geared towards empowering women and girls of all ages. I can see an 8 year old bopping these tunes and being like oh ya jimmy johnson doesn't like me but that's okay because I'm an independent and one of a kind queen. Or I can even imagine a grown woman [me] blasting this song in the tub as she sobs about an ugly breakup but she's half sobbing tears of joy to finally be free and be herself again [true story, me]. Lizzo is a huge national icon for women. I didn't get it at first, but it's because I never gave her music the chance, until I saw her performance and was like oh woah, this chick is actually raising my vibration just by speaking in such a self loving and accepting way. I really needed her medicine that night. We need more songs about women being queens, and accepting heartbreak and rejection- because in the end , it all serves for their higher purpose. Not only with heart break does she excel in empowering, but as well as in body positivity. I never thought I'd say this, but if I were a mother of girls, I would definitely have them blasting Lizzo in the house, because the raw essence of her music is to not lower your standards for yourself or for anyone else, and to always be positive of what happens because you are strong, independent, and beautiful. 
Tame Impala…
Last but not least, the best performance of them all, Tame impala. I was lucky enough to have a friend with me who didn't care about being obnoxious to others, and got us all the way to the front. I am forever grateful for that, because to see tame impala in their best element is to be as up close as possible, because they always have tasty treats of lights and lasers that one can only fully embody if close enough.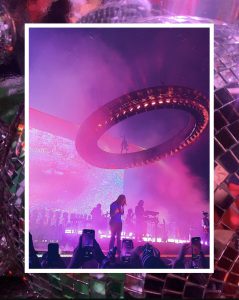 They started their set with a trippy video that eventually starts falling into glitches and morphed voices that is definitely directed to cause trippiness. It most definitely did for me, and then they cut all the lights out and said tame impala could not perform, but the wiggles will sub in to perform for them. For a moment there, I completely forgot it was halloween and was confused until they came out in the wiggles costumes! This was so nostalgic because I used to love this show as a child, and they even included all the other characters that I can't name off the top of my head, but it includes humans in large costumes of  an octopus and a dog. Of course, they start the set with my two favorite songs by them. "Endors toi," and "Nangs." The favoritism doesn't even begin to start there. Tell me why I began crying not once but TWICE during their entire set! I love crying to music. It shows how much power sound really has over me. I of course cry for, "Eventually," and "Yes im changing." As someone who's really going through that terrible breakup, these songs really hit home. How can someone be so optimistic about a breakup? Kevin parker is a true genius in that way. With lyricism of, "I was raging, it was late In the world my demons cultivate I felt the strangest emotion but it wasn't hate for once" and of course the part that froze time and everything in it was when he unexpectedly said, "There is a world out there and it's calling my name, and it's calling yours, girl it's calling yours too"
Okay what the hell, of course I'm going to cry at that part. Such a mature way to really close the relationship, by saying hey you know we don't match anymore but there's so much excitement and more in store for us, but separately. To write another song saying, "I know that I'll be happier And I know you will, too -Eventually- Eventually." wow and there goes cry sesh at outside lands number two. So powerful, and not only in words but in his choice of how he would display it in song writing. Pure genius. Enough about my experience, Let's talk about what really blew mine and other people around me's minds. The lights! The lasers! All of it was insane. I'm sure there were parts for 3 songs straight. I just stared and melted into the lights. They really did it this time. I even had one thought that was like, "damn, this must've cost a fortune to invest into." It shows that Kevin still really cares about his fans' experience, even knowing he's one of the top artists played and listened to for the past decade. I felt my face melting and my body floating with the music and the lights. It's hard to really explain in words the magic that the show gave not only me but 100% everyone around me. A pure religious experience this was, and a pure spiritual genius Kevin Parker is. 
Written (incl. all photos) by Maryzelle Ungo ~ November 2021
Former KXSF DJ & Volunteer & Host of Grapefruit on KXSF.fm