KXSF Sports: Warriors wrestle with Grizzlies, win 113-104
Sam Pasco
After a brief hiatus, we are BACK covering the Golden State Warriors LIVE from Chase Center.
Guess who's back?

KXSF Sports is 🔴LIVE from @ChaseCenter covering tonight's Warriors vs Grizzlies game!

Follow @KXSFsports on Instagram and check back to https://t.co/R6CUtLc05X for live updates#MEMvsGSW pic.twitter.com/QBZCAYN6Lv

— KXSF Sports (@KXSFsports) December 24, 2021
Pregame Notes
The Warriors have 6 wins in their last 8 home games against Memphis, but the Grizzlies did win the first matchup of this season 104-101 in OT back in October.
The Warriors own the BEST home record in the NBA at 15-2
Nine years ago today, the Santa Cruz Warriors played their first game ever (a win over the Bakersfield Jam 93-88)
Now That's Just Silly
I'm not sure who is in charge of this, but this is just a flat-out silly question. Still, when they revealed the results, only 92% of people said "Yes" – I guess 8% of people have never seen the movie.
that's a clown question, bro pic.twitter.com/yCYWc7YXZZ

— KXSF Sports (@KXSFsports) December 24, 2021
Fan Cam
On the opposite end of the spectrum of Chase Center scoreboard antics was a very creative fan engagement promo: The Fan Cam. The Fan Cam allowed fans to scan a QR code which opened their front-facing camera and then displayed a select few on the big screen. While it's almost identical to a cameraman just zooming in on people in the crowd, I felt it was a very creative use of technology and allowed active fans a better chance of being seen on the jumbotron.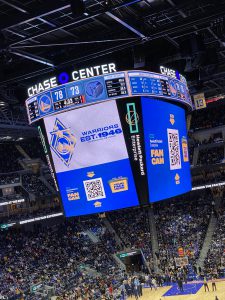 Media Dining Menu:
Tonight's media dining menu for #MEMvsGSW, courtesy of @bonappetit pic.twitter.com/Y0vouc0hte

— KXSF Sports (@KXSFsports) December 24, 2021
I came in a little late tonight so I didn't get a chance at a full serving, but I'd give the Herb Marinated Vegetables and Gluten-Free Pasta eight out of ten stars.
Game Notes
The Warriors advance their NBA best home record to 16-2 as Dub Nation wins 113-104. Curry drops 46 points and Gary Payton II contributes 22. Bjelica was close to a double-double off the bench (9 points, 7 rebounds) in 22 minutes. Memphis had three players with 20+ points, including Ja Morant who was 0-4 from behind the arc.
Instagram
Be sure to follow us on Instagram!
View this post on Instagram

Tonight's TikTok: