KXSF 102.5 Flaming Snowball Extravaganza benefit at Ireland's 32
Web editor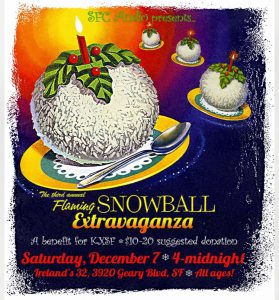 Forget decking those halls, come on out to Ireland's 32 for the KXSF 102.5 FM Flaming Snowball Benefit on Saturday, December 4.  Join us for a special show featuring tons of local bands! We're getting underway at 4 p.m. and can't stop, won't stop until late into the night. A donation of $10-20 is requested with nobody turned away for lack of funds.
KXSF 102.5 Flaming Snowball Extravaganza benefit at Ireland's 32
When: Saturday, December 4, starting at  4 p.m.
Where: Ireland's 32, 3910 Geary Blvd, San Francisco, CA 94118
Check out this schedule:
4:00 George's Washing Machine
5:00 Another Man Out The Window
6:00 Church Of Friends
6:45 Williford
7:30 JMB Band
8:30 TAME
9:00 Radiozoa
9:40 Bellyfruit
10:30 Rotton Core
11:20 Last Minute Shoppers
Plus, more entertainment to be announced! Proceeds go towards keeping your favorite local radio station KXSF 102.5 FM on the air! Let's get out there and Par-tay! All ages welcome!