Interview: DJ Andy Chaos sits down with Mean Jeans
Web editor
by Andy Levitz
DJ Andy Chaos caught up with the Mean Jeans at their Apr 16, 2022 UC Theatre show, opening for The Chats along with Thick.
KXSF: How many shows have you guys played in the last two years with the Pandemic?
Jeans Wilder: We played two shows and now we've played two more on this tour. We actually practiced for this tour. We met up in Tucson and practiced two days.
Billy: I think we practiced more for this tour than we've practiced since we've been a band, which is two days. Mean Jeans has never been big on practicing.
Jeans Wilder: On our last big tour we practiced before we left, but we only practiced dance moves and we never deployed them. And I'm the drummer. We overestimated the audience participation and when the audience isn't feeling it you just go into ZZ Top dance moves. [doing dance moves]
Junior Jeans: It has been hard to get back into the groove. I didn't remember what to bring.
Jeans Wilder: I changed socks. [showing off his pink ankle socks]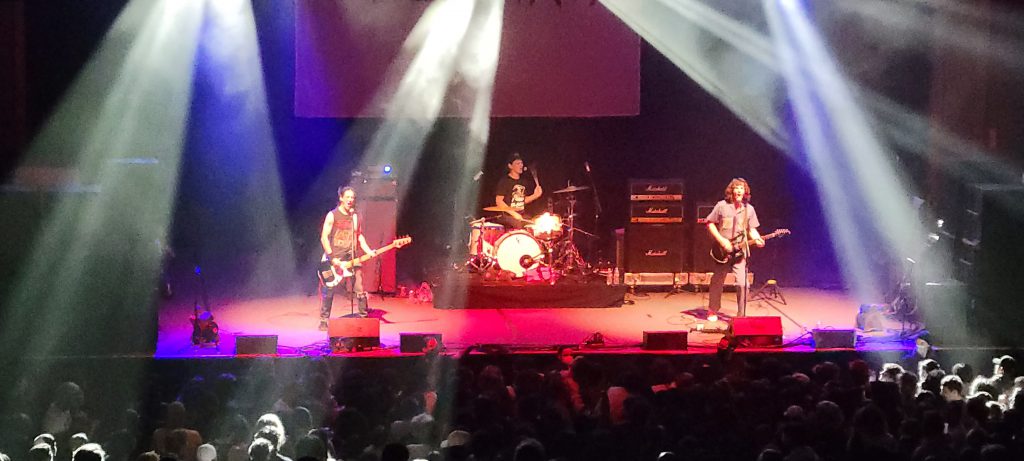 Billy: This tour has been rescheduled April 2020, October 2020, Aprril 2021, October 2021, April 2022. This is the fith time. It's been about 480 emails. I can't figure anything out. And every time it gets rescheduled, they add another week. It's been anchored in the Chats playing Coachella.
Jr: I wasn't even a hundred percent convinced it was going to happen two weeks ago. There is nothing saying this won't get kiboshed right now. It could all go belly up at any point.
Jeans Wilder: Hence me buying a 2003 Toyota Sienna with 225,000 miles for $2800 and then I had to get the timing belt changed, unless this is the IRS listening. I like finding deals, but I didn't want to rent a car and have it fall apart so 2 weeks ago I bought a minivan because I didn't want to spend $6000 on a rental and have the tour fall apart.
KXSF: The IRS listens to KXSF all the time.
Jeans Wilder: If they audit me they're gonna get like $20 back, but I tipped the Mean Jeans merch person $20 last night so they should get it from him.
KXSF: In 2020, you were supposed to do Australia and UK. Any plans for those tours coming up?
Billy: Those were in the works. There were Chats about it. Australia was more serious at the time, and is more serious now again.
Jr: It was one of those things that we really wanted to do.
Billy: The deal with the first iteration of the Chats tour was that in February 2020 we did the east coast culminating in Asbury Park with Strike Anywhere. We had booked that and then agreed to do the Chats tour and it was some of the same places. It was immediately afterwards. It was like do we really want to do this? We're about to go on tour again. And now we're really grateful we did because the world shut down a week later.
KXSF: So how have you stayed busy for the last two years?
Jr: I run a motorcycle shop in Austin, TX. It was great. Motorcycles are something people do alone. They're getting money from the government. We shut down for a month and then were busy. It was reasonably ok for me. Thankful to have a job and people giving me their government money.
Billy: I was living in LA and then I moved to Tucson. In both of those places I completed a solo record that [came] out April 22. Usually, I wrote a song and then email it to these guys, but after March 2020 I was like I could send you the song, but nothing is going to happen because we're not going to get together. We're not going to make a record. We're not going to play any shows. That was the entire inspiration for me making a record alone.
Jeans Wilder: I was painting houses with Hellshock, who also have a new album coming out. It was lucky for me because I do band stuff and set up events. I had a friend that asked if I would help him paint. I'm not a painter, but I'm also not an idiot. I tried to collect unemployment, but I failed. The event gig was as an independent contractor. I spent three months on the phone. It didn't work. I'm not bitter.
KXSF: Last week, Mean Jeans digitally released Hits from the Bog which is three unreleased tracks from Tight New Dimenson. What can you tell me about that?
Christian: Yes, the bog, which is my hard drive. I was like these probably don't need to stay on my hard drive anymore. We might as well put them out. I'm not really sure why they were left off Tight New Dimension.
Jeans Wilder: We don't remember the thought process of leaving them off Tight New Dimension. When I was driving down to start the tour from Portland in my 2003 Toyota Sienna with 225,000 miles I listened to our set list and popped on the new EP.
Christian: I was trying to remember the process of why we didn't put them on Tight New Dimension. When we were making the record, I remember thinking Mind Fulla Slime might be one of the better songs and we just left it off.
Jr: I hadn't listened to them since that album. I liked them.
Christian: The idea of recording a new record and recording more songs than are going on the record is a good thing. The longer you spend working on a record the more time you spend thinking about which songs are good and then you move along and forget about the ones that don't make the album.
Jeans Wilder: I was being pessimistic about it and not to self clown but Tight New Dimension is not one of my favorite Mean Jeans albums and if these songs were left off that album how good can they be? Much like when Metallica released the Death Magnetic EP which was songs left off Death Magnetic and that album stunk.
Christian: They should have left the whole album off
Jeans Wilder: I left that CD out of my collection on purpose, by not purchasing it.
KXSF: So the Fest lineup just got dropped and for the second Fest in a year you guys aren't on it.
Christian: Yeah, I will say that the Fest is a thing that traditionally all the bands tour to, so it's really hard to get shows. We're like we'll just book a tour on the east coast to make it worth our while, but every other band is also booking a tour on the east coast, not to mention we've never had a booking agent and we usually figure it out two weeks before it happens.
Jeans Wilder: And until the 2003 Toyota Sienna we've never owned a vehicle.
Jr: We did Punk Rock Bowling last year because with all of us living in different cities it was much easier to get to. I got a $49 round trip ticket. It was $100 to check the bass, but ya know. Anybody who knows the details of the instrument carry on law please email me. I try to carry it on and ask them to put it in the closet, because it's the law and then they proceed to tell me my instrument is way too big and then they check it and that's why my case is all bent and busted up. But at this point do we even need a bass player in the band?
KXSF: What's next on the horizon?
Jr: I play in a band in Austin called the Nukes. We're putting out a digital EP. It's punkish-metalish with lots of guitar riffage, stuff like that.
Christian: There's potential for another tour with the Chats after this one. We've been thinking about writing more jingles. We need to identify everything we need, then we can write a jingle for it during the drive and try to write a jingle for it just to get free stuff. We do need new windshield wipers and we're running out of windshield fluid.
Mean Jeans released Hits from the Bog digitally on April 8 through Fat Wreck Chords and Christian Blunda released Funky Punks in Space on April 22. Catch The Mean Jeans on tour with the Chats and Thick through the end of May.